​Picking the right kitchen cabinets
October 2, 2017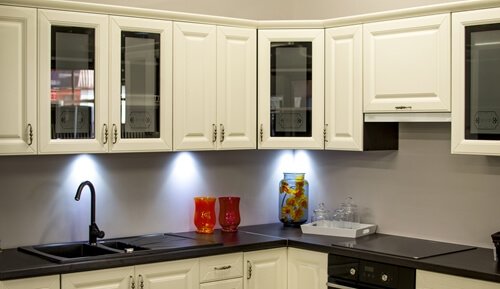 There are plenty of ways to freshen up kitchen decor without undertaking an entire remodeling project. Some choose to simply update their faucets with something more modern and functional, while others pick out new curtains or counter tops. Installing new kitchen cabinets is one great update to make, as it can be a solid investment in the future of your home.
It's all in the materials
According to a recent article in Builder Magazine, plywood is a good option to select for cabinet materials because it is sturdy and can keep moisture out. Solid wood kitchen cabinets are ideal, but those on a budget may want to use particle board on the cabinet interiors. This does not diminish the quality, especially when just used inside. However, if you know that you are looking for painted – which can provide a classic look – MDF is the best material to select, the source noted. If you have little ones, consider Thermofoil, which can help protect against scratches and bangs, making your kitchen cabinets stand the test of time.

Think about the style
Kitchen cabinetry comprises a fairly large part of the overall space . Depending upon a home's layout, cabinets may even be visible from the front door. Houzz suggested that before upgrading or changing the kitchen cabinets, homeowners should think about the style or door, in terms of the aesthetic sense they want to portray. For instance, glass cabinet doors can showcase dishware and give a kitchen a more vintage feel, but this may not be ideal for those with older, less attractive dishes, pots and pans. To keep a timeless feel, Shaker-style doors will help ensure that the kitchen looks sophisticated for years to come.
Also, the source added, kitchen cabinets need not just be standard doors and drawers. Consider adding flip-down surfaces for instant extra counter space, a large, deep drawer where a garbage can may fit and sliding doors to enable cabinet access.
Cabinet handles are another consideration and can definitely communicate much about the kitchen. Sleeker, brushed metal handles are more modern than intricate, curved handles,although the latter can be a eye-catching part of a farmhouse-style kitchen. Smaller, less obtrusive knobs or door handles are always a good option as people are less likely to walk into them – and they will be easier to clean. Think about both the appearance and functionality of handles: Something that looks great may not be ideal for a smaller kitchen space, while carved and curving handles can attract dirt.
Homeowners with little floor space may want to consider wall-mounted kitchen cabinets. These can easily be hung above kitchen countertops, and can look elegant, especially when paired with lighting underneath.
To see many ideas for kitchen cabinetry and accompanying fixtures and faucets, visit a kitchen and bath showroom. Here, experts can offer advice, and some spaces allow visitors to see and feel sample kitchen cabinets.