A Chic Seated Bathroom Vanity
September 18, 2017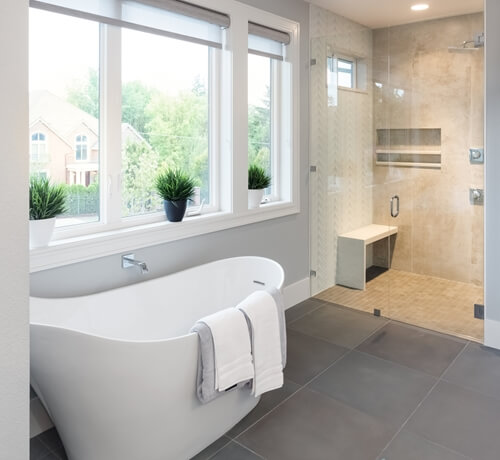 Bathroom renovation projects can sometimes only focus around the functional: how can a bigger sink fit in the room? Will a walk-in shower make sense? Is it time to opt for a low-flow toilet?
There are many creative aspects to renovating the bathroom; there is tile to pick, colour schemes to incorporate. And the primary user is also a consideration: Will this be a family bathroom, a guest bathroom or simply for the adults in the household?
Vanity adjustments
One unique element that can suit either a powder room or the home's main bathroom is a seated bathroom vanity. Not only will it be a unit of storage, but the piece of furniture can also be a pretty place to get ready in the morning: There will be ample room for someone to shave, or to fix up a complex hairdo and prepare for the day.
By placing bathroom cabinets under the vanity, home improvement enthusiasts add storage options and remove the need for a separate set of drawers for towels, additional toilet paper and other styling tools. Apartment Therapy highlights several options for this trend, which was more popular in the past.
Dual sinks
One of the featured homes has two bathroom sinks with a low counter and stool in the middle. Each person can use their own sink, and there is space in the middle for someone to get ready in the meantime. To match the rest of the house which is farmhouse style, the decorator used reclaimed wood under the sinks and marble on top.

For more options on how to create a bathroom vanity with a seated option, it is a good idea to stop into a kitchen and bath showroom to ask for ideas and assistance.
Selecting the perfect seat
Another seated bathroom vanity featured in House Beautiful places a small, round stool between two sinks – it seems to be the easiest and most popular option for creating an extra space. The designer used different textures and materials to make the room pop, rather than adding a ton of colour. Both bathroom vanities are made from cast concrete with wood bathroom cabinets below. The stool is of a softer grey material and matches the sinks perfectly.
Finding the right stool for the seated bathroom vanity can bring the room together. Be sure to measure the counter height to ensure the stool is not too tall. Then, decide whether the seat should blend in or pop out. Picking a seat in a bolder colour can add a spark to a more muted room, whereas keeping a consistent colour palette can maintain a uniform feel to the space. However the room is decorated, a seated bathroom vanity can add a bit of uniqueness to the bathroom space.