Designing a Great Kids Bathroom
September 5, 2017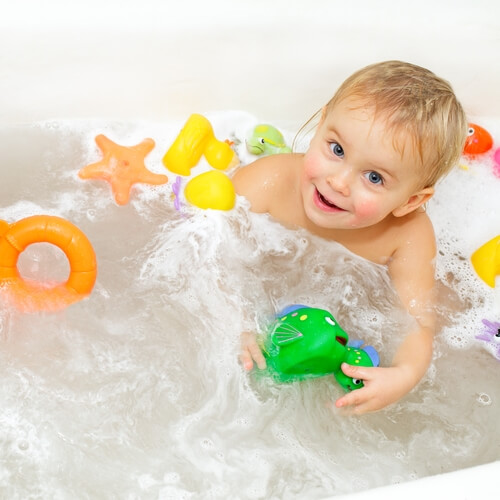 A kid-friendly bathroom can be a great addition to your home, especially if you have sufficient children and bathrooms! By giving them their own bathroom space, you maintain a bit of your own privacy and allow them to have a bit of independence and responsibility. You can also involve them in selecting bathroom decor so the kids feel involved, eventually creating a great space.
Accommodate kids' needs
Smaller children often need a step or stool to reach the sink. You can invest in a folding stool which can be used anywhere in the house, or go with an idea from Southern Living: creating a recessed step under or part of the bathroom cabinets. It can be pulled out when someone needs to reach the sink, and simply pushed back to remain part of the bathroom cabinet for the rest of the time.
Adding a little whimsy with small, decorative touches is another way to make the bathroom appealing to kids. The web site suggests using "quirky" elements like a funky zebra head wall hanging or unusual wall sculptures to give the room a more youthful element.
Keeping the whole family in mind
However, HGTV reminds home decorators that kids will soon be too old for lighter, pastel colours and childish decorations. Instead, you should try and design a bathroom that will appeal to the whole family, and you should try to go bold with the colors. One example is a gender neutral bathroom for both a boy and a girl decorated in turquoise and orange. There is ample space for each child, including two bathroom sinks. If the bathroom will be used by more than one child and there is not room for more than one sink, you might want to consider installing a larger bathroom sink and vanity to ensure room for each child's toothbrush and other personal items. Stopping into a kitchen and bath showroom can help you find ideas and hear expert opinions on what will work best for the area.
Using bright colors as part of bathroom decor can help it maintain a youthful vibe without appearing to be immature. HGTV highlights another bathroom remodeling project for kids where the end result is mainly a lime green with white and orange accents. To create more space and make for easy cleaning, the homeowners installed a pedestal bathroom vanity which stands alone, and a separate bathroom cabinet space for storage.
Southern Living suggests placing artwork and towel hooks at kid-height. If you choose to go this route use hooks that are attached to the wall with a sticky backing. As the kids get older and grow, you can adjust the hooks to be of a more appropriate height and move up the artwork as well.
Finally, always involve kids in the bathroom renovation project. Their input can be valuable and help you discover their preferences for the space, which is particularly important as they will be the ones using it most. It can become a fun activity for the whole family – with a beautiful outcome.