How to Enhance a Tiny Kitchen Space
September 10, 2017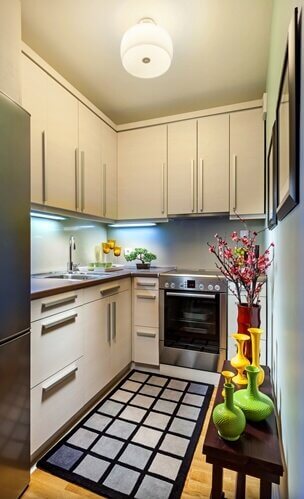 People may have become more interested in smaller homes, thanks to the trend of tiny houses. These pint-sized spaces are often, according to Country Living, under 300 square feet in size. They can be made from a kit, or some budding home designers decide to create their dwelling from old shipping containers. With a tiny home comes a tiny kitchen, usually by choice. However, some people with limited apartment space are forced to navigate tighter quarters than they might like. No matter how small your kitchen – whether by design or by decision – there are many excellent ways to maximize your space and inhabit your kitchen comfortably.
Color-created illusions
Coastal Living presents a range of curious and intriguing ideas for a smaller-than-average kitchen. To present the illusion of a larger space, paint everything white. This may not be the best idea for those who tend to get messy while baking and cooking – you'll be cleaning a lot – but fresh, bright white walls and kitchen cabinets will look airy and spacious. The source also suggests incorporating wood and wicker elements into the design. Look for a light fixture made from woven wicker or a basket for a unique touch, and select stools while light wood legs to punctuate the brightness of the room.
Highlight the view
If you're lucky to have a great window view, try to highlight this feature. Coastal Living presents an incredibly small kitchen in a Cape Cod home. The space is only about five feet wide, but the kitchen decor focuses around the window, which looks right out onto the water. The rest of the kitchen cabinets and kitchen counters remain fairly rugged with open shelving, knotty paneling and rope instead of cabinet handles. This creates the illusion of a large frame to the window, acting like a picture. The owners chose to use blue tile on the kitchen counter which tastefully echoes the blue water outside.
Creating counter space
Rather than stress about adding a draining board and compromising already precious kitchen counter space, look for a dish rack that folds into the wall or that can be collapsed when not in use. Hanging pots and pans from a ceiling rack can be a great way to free up kitchen cabinet space. You can give the room the ambiance of a professional restaurant kitchen by installing a metal rack either above the kitchen island (if there is room) a small breakfast bar, which may double as your dining room space, or just over the sink. Simply reach up for the necessary items when required and re-hang after use.
If you're really crunched for space, Coastal Living suggests purchasing smaller appliances. You don't want your fridge to dominate the kitchen, and a smaller dishwasher may mean more room for kitchen cabinets.
For more ideas for a small space, you can stop into a kitchen and bath showroom. Professionals can assist with your needs and suggest how best to incorporate a kitchen sink and faucets that will best suit your smaller-than-average home.