5 Simple Kitchen Lighting Tips You Need to Know in 2018
January 4, 2018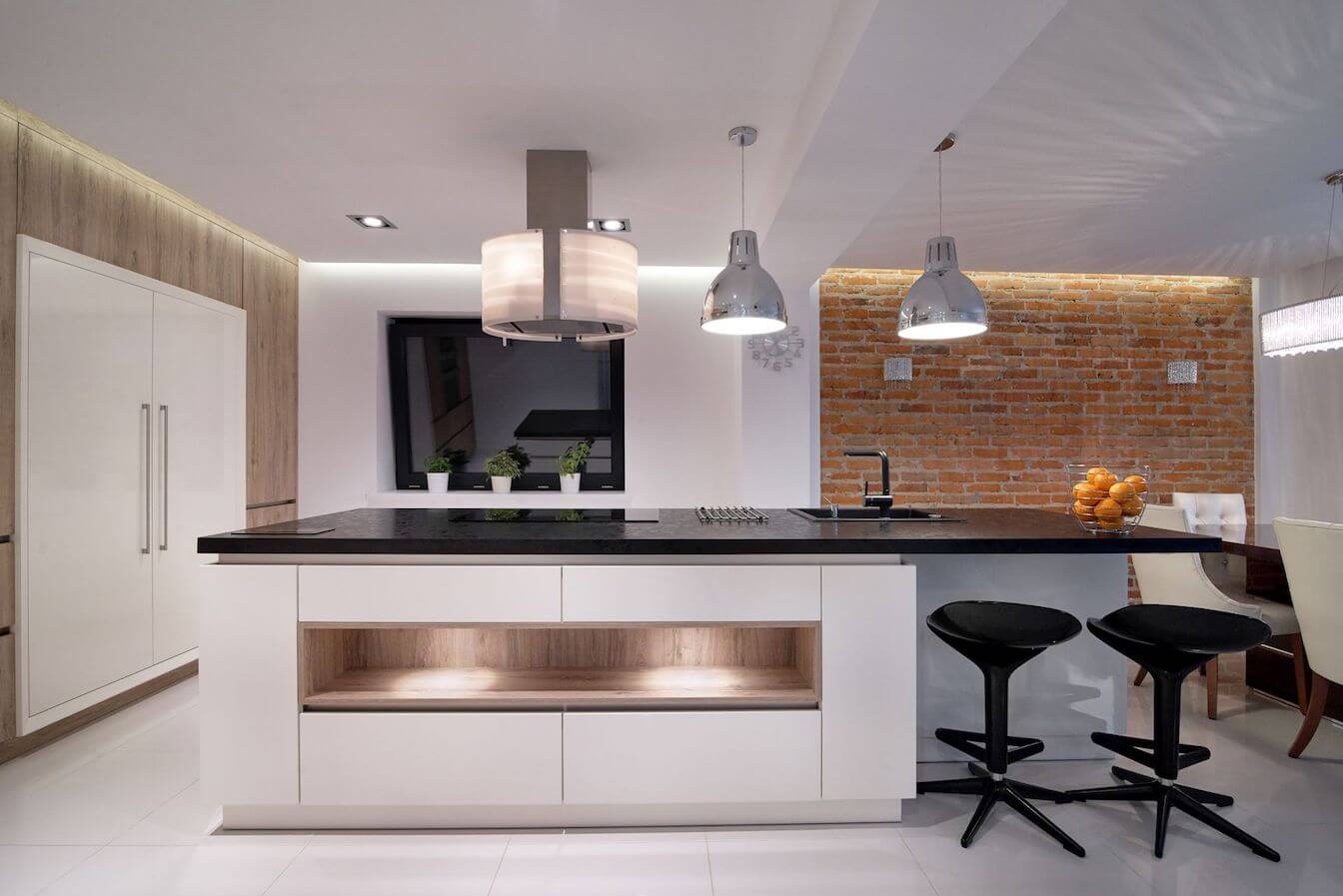 As one of the most important rooms in a house, you want a kitchen that reflects the warmth of your home. To create a welcoming vibe, kitchen lighting is an essential element. Pay close attention to your lighting fixtures when you're building your dream kitchen.
Whether you're simply prepping snacks or cooking elaborate meals, hosting dinner parties or just chatting on the phone with a loved one, the right kitchen lighting scheme can make or break your space. This means you need to be conscientious about what kitchen lighting option you choose.
Each kitchen is different and requires a specific solution. Keep reading for a few simple kitchen lighting ideas to let the right life into your life (and kitchen!):
5 Kitchen Lighting Tips For Your Home

1. Layer Lighting
To achieve the most effective lighting for a kitchen, you'll need to involve four layers of lighting, according to Randall Whitehead, a lighting designer and author of Residential Lighting: A Practical Guide. These four layers of lighting — task lighting, ambient lighting, accent lighting, and decorative lighting — should be blended together to create a warm and inviting environment.
"The most common mistake people make is trying to light their entire kitchen with one fixture centred in the ceiling," says Randall. "It ends up being what I call a 'glare bomb,' visually overpowering everything in the space, including family and friends."
No single source can provide enough necessary light for an entire kitchen. This is why layered kitchen lighting is key. Task lighting provides adequate light for cooking tasks. Ambient lighting will create a warm glow in the room and soften shadows. Accent lighting will bring depth and dimension to your kitchen. And lastly, decorative lighting adds the sparkle!

2. Shine Bright with Overhead Lighting
A bright overhead light fixture or fixtures are a great option for lighting up your kitchen because it also presents an opportunity to instil a sense of class or personality. Static, flat lights do nothing more than illuminate a room. But, a hanging fixture or other more dynamic setup is much more interesting.
According to Joe Rey-Barreau, director of education for the American Lighting Association, key locations for overhead lighting include underneath the overhead cabinets and over the kitchen island. Basically, anywhere you'll be slicing and dicing or reading recipes, you'll want some bright overhead lighting.
Do some research about available options, and choose a kitchen chandelier or other overhead lighting that conveys the right sense of character. A dimmer switch is another awesome enhancement to give yourself more options for your kitchen. This way you can be a little more specific when setting the mood.

3. Leverage Accent Lighting
The DIY Network found that accent lighting is a clever way to illuminate your kitchen and also add a little style. You can use a few well-placed lights to really give the space a sense of depth and poise.
Consider an overhead light that runs beneath your cupboards and lights up the counter beneath. These under-cabinet lights are more than just helpful when working on countertops! They also provide task lighting and soft, ambient lighting. These kinds of kitchen lighting are what will create a warm glow and inviting space.
You may also use accent lighting in a display case to highlight fine china or favourite photos. Like a dimmer switch, this can also help establish mood in the kitchen because it offers options beyond simply turning the lights on or off.

4. Consider a New Paint Job
Beyond physical light fixtures, there are two primary ways to make your kitchen a brighter place. The first is to try and use natural light either by opening or changing curtains, or even installing a new window or skylight.
A paint job is the second way to light up a room. The right hue defines the space. While darker colours can be rich and beautiful, lighter shades and the use of white space could give your kitchen a more inviting and scintillating appeal.

5. Use Decorative Lighting
With the use of candles or lamps, you can further give your kitchen a sense of personality and also improve lighting overall. However, HGTV found that this can be a more expensive pursuit if you aren't careful about your choices.
Your best bet is to consider decorative lighting last. Once a new fixture or paint job is finalized, then you can get a better sense of what your kitchen would benefit from most and where the best place for a sleek lamp would be.
Would you like to get more involved in your kitchen lighting and decorative lighting? You may want to consider hiring a lighting designer. These lighting professionals will consider your kitchen's layout along with other elements of the kitchen design, like ceiling height and surface finishes. Then, the lighting designer will help you determine the amount of light you need and where to place the fixture.
To find a professional lighting designer, check out the International Association of Lighting Designers website.
To see more kitchen lighting options, head to a Kitchen and Bath Classics showroom in Saskatoon, Lethbridge, or Regina. Here, our experts can assist you on your journey to kitchen lighting perfection!