Neutral Colours For A Great Bathroom Remodeling Project
August 17, 2017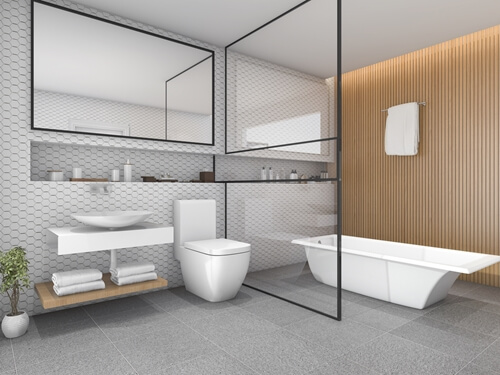 There are so many elements to select when embarking on a bathroom remodelling project. Probably the most important part is finding and embracing the right colour palette. For items like toilets and bathroom faucets, the colour selection can be limited, unless a gold toilet suits your taste! Otherwise, the limited colour choice can work to your advantage when tackling a bathroom remodelling project. You can use the paler tones in these bathroom fixtures to decorate the whole bathroom itself; there are a wide range of beautiful, neutral shades from which to choose.
Apartment Therapy highlighted a project by Paula E. Guzman studio where she and her design team renovated a bathroom in a New York City apartment. Challenges included working with a small bathroom space in a city apartment. To make it shine, and to make the bathroom feel more spacious, she opted for a neutral colour palette. Her finished bathroom presented some pretty and bright bathroom cabinet ideas, as well as simple, elegant fixtures befitting the smaller sink and space. Her bathroom was decorated in neutral tones, to highlight what she described as "unusual" colours in the floor tiling. She then selected the fixtures, bathroom cabinets, towels and bathroom sink to embrace the pattern and create what she described as a "shell" theme. The floor was also "busy," so she painted the walls a taupe-grey shade.
She chose to keep both the sink and the toilet white, but accented the space with unique bathroom curtains and a photograph taken by her boyfriend. Adding personal touches like this on the backdrop of a more neutral or calm bathroom can really make them stand out.
Better Homes & Gardens had additional advice for designing a bathroom in neutral shades. Using bathroom accessories to pop on a white, grey or beige colour scheme allows you to use your imagination and creativity. A bathroom that is not brightly coloured can be punctuated with a wide range of elements. For example, if your bathroom has large windows, the news provider suggests selecting "elegant floor-length drapes" to provide privacy.
For a more vintage, classy vibe, the news provider advises sticking to a simple black and white bathroom design scheme. These bathroom fixtures should have a shiny finish, which will make them sparkle against the calmer colour backdrop.
Some people think that neutral colours have a "cold" feel to them, especially if a bathroom has a tile floor and tile walls. Better Homes & Gardens advises this is not the case. Adding charcoal planks around the bathroom vanity and bathroom cabinets can warm up a space, in addition to – where possible – selecting "neutral paint colours with a warm undertone".
There are many shades of neutral colours available, ranging from pale and creamy whites to beige and even lighter blue colours. It can be fun to customize the bathroom space with outstanding, small elements that will pop against a calmer background. The shower curtain, for instance, does not have to be bold, nor do bathroom staples like rugs, bathroom cabinet doors, or even the floor itself. There is plenty of room for adding personal touches to decorate the walls, or even to bring in a plant or two which can balance out the softer background. However you choose to remodel your bathroom, it will certainly be a fun, satisfying project. Visit a Wolseley Canada Kitchen and Bath Classics showroom today to find some inspiration for a bathroom renovation project.