Pink Tile For The Bathroom: Retro and Chic
August 23, 2017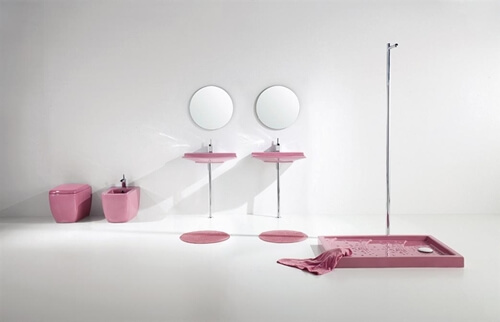 Vintage and retro home décor has been favoured for quite some time now. Many people have different definitions of what they consider to be "vintage," but looking for expert advice can often provide backstory for these ideas. When considering a bathroom renovation project, it may be rarer for people to consider decorating this room to have a vintage feel, especially when the colour in question is one some choose to remove. Yes, that pink-tiled bathroom is a hot retro shade that can be inspiration for chic bathroom décor.
The HGTV website highlights the classy, vintage feel of a pink tiled bathroom – they were often seen in homes from the 1940s and 1950s – explaining that they were "once quintessential in mid-century homes, and now there's a growing movement to save them." According to a design expert featured in this article, the shade was known as "Mamie Pink" or "First Lady Pink" as it was favoured by the First Lady Mamie Eisenhower and she used it in decorating the White House.
There are many ways to play up a pink tiled bathroom, and the source presents a range of images for some bathroom decor ideas. Adding black accents to contrast with the lighter pink tile makes for a pretty pattern. If you are installing tile yourself, you can speak with a design professional to determine what kinds of tile are ideal, and where the black and pink patterns should go. According to the HGTV expert, pink tile is "timeless," so if you choose this bathroom décor route, it will last for years to come.
For more inspiration, one article from Apartment Therapy presented bathroom décor options. Adding different colours of paint to the walls can complement the tile well, and accents like plants or pictures will enable the room to feel complete. One couple chose to match the bathroom wall paint to the tub, and opted for a pastel grey shade. On the other hand, the source notes that blue and aqua shades complement the pink, and cited one example of a bathroom that had walls painted in that colour. The "interesting contrast makes visual sense," according to Apartment Therapy.
If you are adding tile to your bathroom especially in the shower area, the DIY Network website offers up some helpful tips. When the demolition is complete, first lay out and measure tile to be certain that it will fit the space properly. Then, when installing, be sure to use a starter board – particularly with vertical tile – to ensure that the tile has a straight edge. Finish the shower floor last after the walls have been completed. Those who have a shower over their bathtub will likely not be tiling the tub, but there's always the option to find and select a new pink tub, to complement the pink bathroom tile.

Looking for more bathroom inspiration? Visit a Kitchen and Bath Classics showroom to take a look at fixtures, faucets, tubs and much more.