12 Elements to Include in Your Rustic Bathroom Retreat
December 12, 2017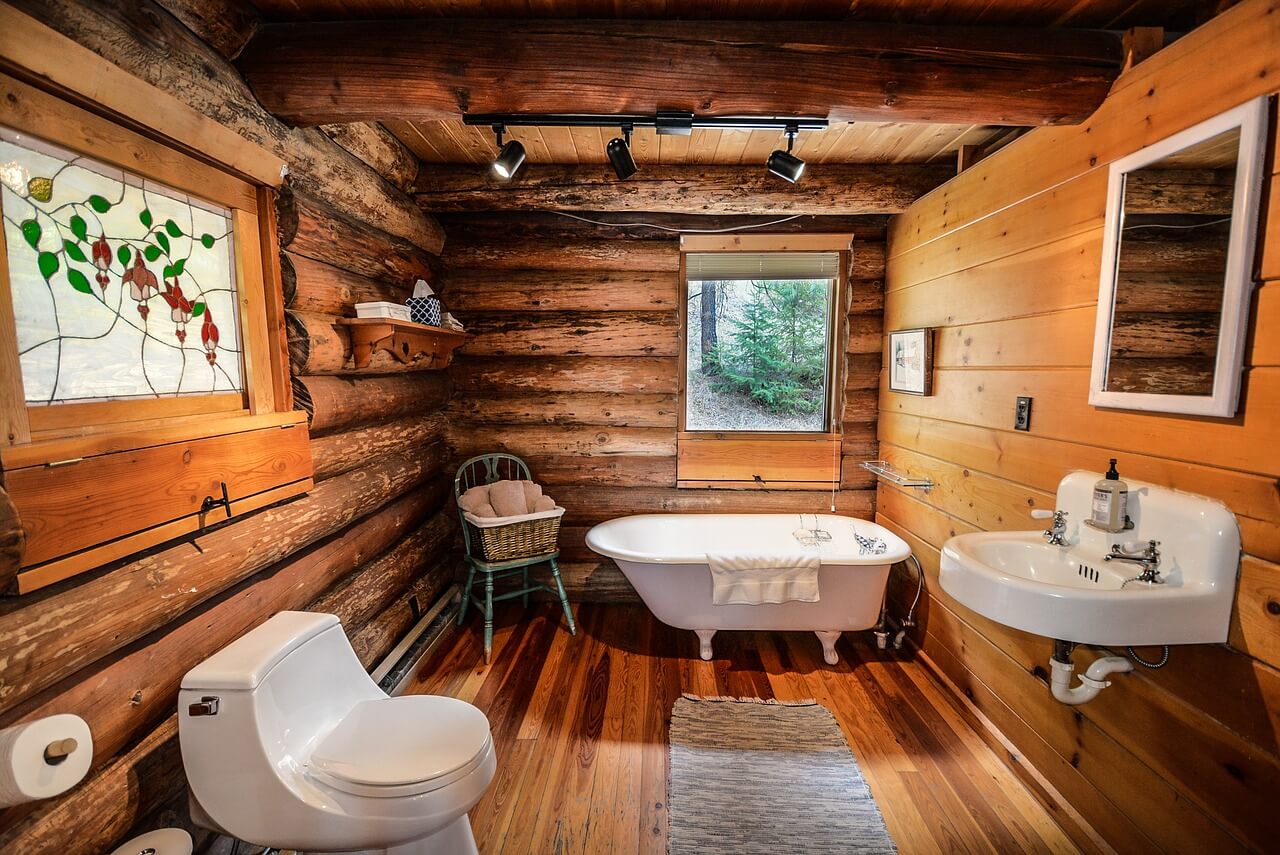 Whether your home is hidden in the woods, situated in the suburbs, or part of an urban jungle, rustic bathroom designs can add a touch of flair to any home. But making the most private room in your home feel a little bit more woodsy and country doesn't mean it can't be practical as well. If you're looking for rustic bathroom décor, but you're struggling to find functional pieces, you're in luck.
Here are 12 ways to transform your bathroom into a rustic yet functional space:

1. Farmhouse-style basin sink
Replacing your traditional sink with an antique – or styled to look distressed – copper basin can evoke a sense of history and the outdoor lifestyle.
2. Mason jar light fixtures
Try lighting up your bathroom with Mason jar light fixtures. Adding Mason jar vanity lights is a simple and easy way to incorporate rustic décor into your bathroom designs.
To create the look, use planks of wood cut to your desired length and stain them. Then, drill holes for wiring, and cover the hole with plumbing fixtures. Next, feed chains to hang the lights from through the plumbing pipe, which support the weight of the Mason jars. Lastly, add the Mason jars and lights blubs, and you're good to go!
3. Antique armoires
While modern styles tend to incorporate storage functionality in less showy ways, something like an antique armoire can give you a place to store towels and toiletries. Simple chicken wire fronting can help limit the build-up of moisture as well.
4. Pallet wood mirror (with storage!)
Every bathroom needs a unique mirror. Having a mirror with added storage space makes this piece even more functional. The pallet wood is what will bring the rustic design to this piece. Use a mirror framed with weathered lumber. Look for or create a mirror that resembles a window with a traditional "window box." The box is where you can store what you need to get ready in front of the mirror.

5. Undermount bath in front of a large window
Does your master bathroom window overlook a wooded, rustic scene? Evoke the feeling of a ski chateau or cabin in the woods by installing an undermounted bathtub right next to the window.
6. Paint cabinets and walls grey
Painting bathroom cabinets and walls grey not only makes for a cohesive look, but it's also an easy way to create a rustic bathroom. Pick a soft hue, and start painting!
7. Open wood shelving
If you want a rustic or country bathroom while also remaining functional, add open wood shelving to the bathroom. Open wood shelving will dress up a drab bathroom and add easily accessible storage.
Check out recycled and weathered pallet or create wood. Both of which can be used to build charming shelves to store your various toiletries. If you want to give the wood even more character, stain it. Choose a stain that accents your bathroom décor and apply it to the wood.
8. Showcase oxidization and rust
Part of the rustic charm is that not everything has to gleam like new. A distressed gilded mirror frame, metal flashings designed to look like rust, even a naturally stained and oxidized faucet can give your bathroom a lived-in look.
9. Vintage luxury
For something more high-end and luxurious, look to the touches of class from yesteryear: A slipper tub and small chandelier can evoke a bygone era while remaining relatively inexpensive in modern times.
10. Plank shelves with industrial hardware
Simple and functional, adding plank shelves with industrial hardware is a great way to create a rustic bathroom. For the industrial hardware pieces, try using plumbing hardware and pipes. These pieces can be assembled and installed as the brackets for the wood top of the shelves.
Plank shelves are practical for bathroom storage, as they can be built in any size and installed anywhere on the walls. To make plank shelves with industrial hardware even more unique, paint the plumbing pipe with spray paint for metal.

11. Reclaimed wood towel holder
While we're on the topic of practical wood pieces for a rustic bathroom, let's talk about using reclaimed wood for a towel holder. For this, attach two different sizes of wood planks, one on top of the other. Then, use a simple antique iron door handle to act as a towel holder. While a simple piece, this towel hook will add more character to your rustic bathroom designs. Plus, every bathroom needs somewhere to hang a towel anyway!
12. Barn-style doors
Using barn doors can bring out rustic and country bathroom vibes. Using a sliding barn-style door makes this rustic décor even more functional. According to Jeremy Van Wagoner, a remodelling specialist and owner of Pinnacle Remodeling, many homeowners are opting for barn style sliding doors between the bedroom and bathroom instead of the traditional swinging doors.
"These kinds of barn doors are becoming really popular," Van Wagoner told the Billings Gazette.
There you have it, 12 tips to create a rustic bathroom while also keeping things functional. Get started on your rustic bathroom designs today by visiting a Kitchen & Bath Classics showroom.