Turn Your Kitchen Into a Baking Haven
September 23, 2017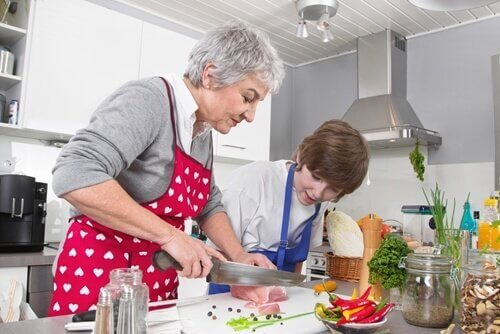 Who's the best person to take a lead on a kitchen remodeling project? No, probably not that cousin who is studying graphic design, or a close friend who took an online interior design course and fancies himself an expert. The person who does the most cooking and baking in the house should be the lead consultant on any upgrades or changes to the kitchen. Some of these can be simple adjustments to make life easier, but any meaningful kitchen overhaul should focus on making it more accommodating to home cooks.
Plan for prep stations
Whether the new kitchen plan includes a solid granite kitchen countertop or something more sleek and modern, home improvement enthusiasts should plan on adding specific food preparation areas too. Here is where individuals can get creative with the counter space and positioning. HGTV featured a range of kitchens geared towards home cooks. The more "traditional" kitchen had an extended countertop with a butcher block surface, which fairly screamed "home chef." If this is the route home remodelers wish to travel down, the end result will be a warm and cozy space, which can be a great place in which to gather family or friends.
For something more industrial, HGTV presented another project where the goal was to have extremely spacious counters. The design included frosted glass and steel kitchen countertops and cabinets which seemed perfect for the aspiring professional chef. With a more restaurant-like kitchen, whoever is responsible for cooking and baking in the home will certainly feel encouraged in his or her craft. As a bonus to a more industrial kitchen, include a large sink and kitchen faucet to collect all the dishes that will pile up. To get inspiration and guidance on kitchen fixtures and sinks, home remodelers should consult with professionals at a kitchen and bath showroom.

Add an island
A kitchen island serves multiple purposes and makes for a great way for home cooks to include family and friends in their creative process – or just to show off!
For example, Ideal Home looked at the kitchens featured in the baking tents on the TV show "The Great British Bake Off," where home bakers compete against one another. The source admired the uses of the kitchen island. This functional and stylistic feature can include kitchen cabinets for storage – or, for more serious bakers, a warming drawer to assist in preparation.
Utilizing copper elements in a busy kitchen can also help it have a more rustic and inviting feel. This can range from a copper kitchen back splash to a copper sink, the source said, once again citing the staged kitchen areas on The Great British Bake Off. Either way, having plenty of kitchen cabinets might be beneficial for home cooks, who tend to have more equipment and pots and pans for the different, delicious dishes they whip up.
Designing a kitchen to be cooking-friendly is a great way to encourage people to spend more time together at home – eventually saving money and really utilizing a newly-remodeled space. By involving the household in making meals, everybody can have the chance to contribute, and maybe learn a thing or two from the home's head chef.