12 Ways to Make a White Kitchen Design Work in Your Home
December 6, 2017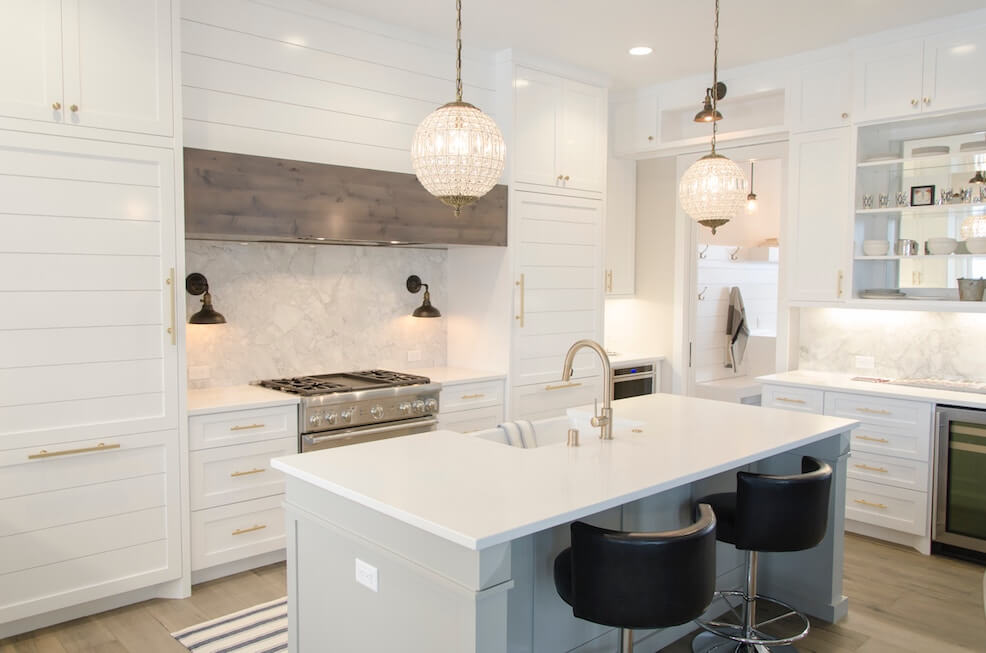 Want a kitchen with a bright and clean feel? Yes, please! Projecting the feeling of brightness and cleanliness, white is a very traditional colour palate for kitchens. While all-white kitchens sound dreamy, this design can sometimes be difficult to pull off. A white kitchen can lead to a boring overall tone and texture if it's not planned properly.
To ensure the hub of your home activity embraces the versatility of white instead of creating a humdrum kitchen design, check out the 12 tips below!
1. Play with different tones of white
To add depth to your kitchen, try painting it in multiple white tones. Going from cotton white walls to honeymilk cabinets may be a subtle difference barely noticeable to the naked eye, but this kind of paint job can make your kitchen seem less washed out. Off-white paint also plays nicely with purer whites, so consider painting your central island in something closer to an eggshell to make it pop.

2. Look for inspiration from nature
Rather than repainting everything with uniform coats of white, why not try materials that have natural white qualities? Swirled marbles or composite counters can give you that simple, unadorned quality while a white wood stain can make your organic materials feel like birch (without the wood's natural softness).
3. Colour up your kitchen island
Wood-stained islands are features of many beautiful kitchens and often appear in white kitchens because of the rich contrast they provide. Before opting for a kitchen island that's wood-stained, think about pairing a bright or richly-coloured island with your all-white kitchen. This kitchen design tip will add a whimsical and personalized feel to the room.
4. Throw in textures
Different textured materials will create natural variations in tone, even if all painted with the same brush. Try mixing tiles with stone or layering wood over paint or wallpaper.
5. Embrace the exposed design bones
The beauty of white from a design perspective is that it can give a "finished" feel to a design that embraces exposed beams, moulding and baseboard. Rustic or country kitchen designs particularly pop when you add a touch of white.
6. Don't forget fabric
Don't let your choice in table cloths or hand towels throw off your carefully planned decor. Choose white or white-complimenting linens for use in your kitchen.
Need some additional inspiration? Come by a Kitchen & Bath Classics showroom and see what you can do.
7. Install a white oven
White kitchen plans are white hot. So why not bring in white appliances as well? Break away from the stainless steel, and check out appliance units with a bright white finish as a fresh alternative. Ovens with white glass fronts would make an elegant addition to any kitchen.
8. Liven up your backsplash
A tile backsplash can add colour and texture to your kitchen. Although a white kitchen backsplash is an elegant idea, a backsplash doesn't always have to be tile. A kitchen with a counter-level window instead of a tile splash is a great way to add colour and a view, especially if there's a lively green garden right outside.

9. Paint the ceiling
Painting the ceiling is a great way to add some unexpected colour to an otherwise monochromatic white kitchen. Although most ceilings are painted a shade of white regardless of the wall colour in the room, you may want to switch things up. Consider your ceiling the fifth wall and ready for a pop of colour!
Perhaps consider an energetic yellow ceiling for a vibrant feel in a white kitchen. Or, you may want to create a more tranquil feeling for your kitchen with a blue ceiling. The sky (or the ceiling) is the limit!
10. Lay down a rug
One of the easiest kitchen colour ideas is to lay down a fun rug. Layering a rug on your kitchen floor is a simple way to introduce colour to your all-white kitchen design. A rug is also a way to add texture to the room.
If you're worried about a possible tripping hazard that can come with layering a rug, consider installing a tile rug instead. This clever kitchen hack is a way to add colour while reducing any risk.
11. Add metal
An all-white kitchen can feel cold if your kitchen plans go awry. Warm up your white kitchen with metal accents. Copper, bronze, brass and polished nickel are all options to add warmth and even a touch of luxury if you choose gold.
Consider combining your metal accents with some colour as well. Pairing a single contrasting colour with metals can spark up a dramatic feel in an all-white kitchen. For instance, choose dark seating and gold light fixtures or vice versa for a sleek, contemporary vibe.
12. Put up wallpaper
Wallpapering a kitchen can be a bold and beautiful way to introduce colour to an all-white kitchen. Applying wallpaper to a single wall will create a dynamic focal point while also adding movement and dimension to the room.
White is an invigorating colour that creates a fresh and clean feeling. So, whether you're in a smaller, simpler kitchen, a spacious vacation home kitchen or anything in between, a white kitchen is an excellent option. Check out your nearest Kitchen & Bath Classics showroom for white kitchen and other kitchen colour ideas.